In the name of God, the Abundantly Merciful, the Intensely Merciful
Praise be to God.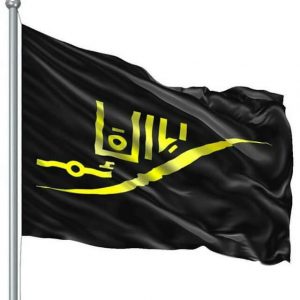 May the peace, mercy and blessings of God be upon you.
The Riser Brigades have been founded for a purpose that I very clearly stated, and that is to protect our holy places, our honor and our country from the invasion of the so-called Daesh which has taken over our country, Iraq. We have no purpose or desire to face or harm the police or the army. On the contrary, we have one enemy and that is those Sufyanis who have taken over our country and want to violate our holy places. Furthermore, we are not a political party that participates in the Iraqi elections, for instance, such that a politician would imagine that we are seeking political promotion so we can compete with them over authority and positions. This is why we urge all of you to cooperate with your brothers and sons in the Riser Brigades who ask you for nothing of this world's wreckage, and only wish to protect the holy places, the people's honor and the country from this Wahhabi, Sufyani invasion.
Let everyone know we founded the Riser Brigades out of necessity after the army handed Ramadi over to Daesh, may God curse them, and after those Sufyanis started moving towards Baghdad and threatening to demolish the shrine of al-Hussain pbuh. We have been left with only one choice which we cannot at all forsake, and that is rising to defend our land and our holy places in the face of this Wahhabi, Sufyani attack.
I also hope that the Sunni brothers and other people rest assured that the Riser Brigades has no goal other than to defend Iraq and its holy places. They are not directed against anyone in Iraq other than those Sufyani Wahhabis who have invaded our country and threaten to demolish our holy places.